Printing over the Internet
This printing scenario may be used in case you would like to send print jobs from an Android device to a remote computer-connected printer overthe Internet; for this to work both the sending and the receiving ends haveto be connected to the Internet.
If you would like a print job sent from your Android device to be printed shortly after you send it to a receiving computer, the latter should be in 'awake' state. If the receiving computer is not in 'awake' state, a print job will be parked at our servers and wait for your computer to log back in to the system.
A printer that you would like to print to should already be configured to work with your computer.
Firstly, download desktop PrinterShare client from our web page.
Once the software is installed on your computer, run it, making sure your printer is switched on.
Now, create an account for remote printing. Left-click User > Log in.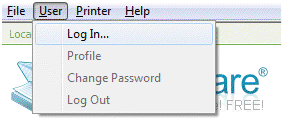 Left-click

button.
Input your password and your email address. The user ID(a numerical value)will be generated automatically and sent to the email you specified.
Now that you're logged in, you'll need to share your printer online. Select a printer by left-clicking it in Local printers section.

Once the printer is highlighted, press

button under Local printers section with the list of printers. It will then appear in the list of remote printers with

status. It will also be shared as a nearby printer.
Now, take your Android device and check that it is connected to the Internet.
Open PrinterShare by tapping on its icon. If that is the first time you run PrinterShare, you will see a splash screen with two buttons: Read More (which will provide you with general information on PrinterShare's functionality) and Continue. Tap Continue once you are ready to proceed.
You will see the main PrinterShare screen with a grid of icons that allow you to access various items that can be printed. Below the grid of icons you will see an icon of a printer with Printer Not Selected text and Select button displayed beside it. To select your remote printer, press Select button.

Your Android device can be signed in to the same account as the receiving computer or it can be signed into a different account. If you would like to printusing the same account on your Android device and on the receiving computer, tap Remote printer in the dialogue window.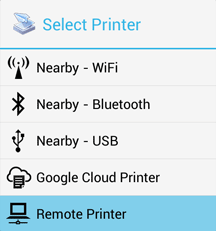 Tap Login and enter your User ID and password.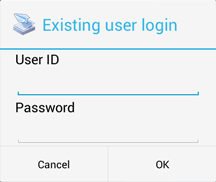 If you would like to print from your Android device using a different account than the one into which the receiving computer is logged, you will need to create anew account. Tap New user and enter your name and your Email in the dialogue window thatappears on your screen.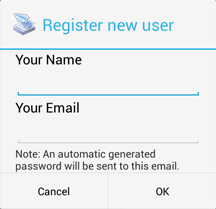 Once you click OK, the login/password information will be sent to your emailaddress for reference.
Now, press Add Printer button

Input account ID of the computer to which you would like to send your print jobs and tap Search.