Printing via an intermediate PC (LAN)
This printing scenario may be used in case your printer does not have built-in wireless capabilities, if PrinterShare driver packs do not have a driver for your printer or if, for some reason, PrinterShare cannot connect to your printer directly. Please note that for printing to take place, your Android device and your computer have to be connected to the same Local Area Network and your computer should be in 'awake'state. Your printer already has to be configured to work with your computer.
Firstly, download desktop PrinterShare client from our web page.Bonjour print services for windows is a part of the package that allowscommunication between your Android device and your computer, andhas to be installed; if you already have a more recent version of Bonjour installed, you may skip its installation.
Once the software is installed on your computer, run it, making sure your printer is switched on. Your printer will be displayed in Local printers window.
Select a printer by left-clicking it in Local printers section.

Once the printer is highlighted, press

button under Local printers section with the list of printers. This will allow PrinterShare on your Android device to detect your printer.
Next, make sure Nearby service is on (bottom left corner of the screen).

Now, take your Android device Make sure that Wi-Fi is set to On in Android Settings.

Open PrinterShare by tapping on its icon. If that is the first time you run PrinterShare, you will see a splash screen with two buttons: Read More (which will provide you with general information on PrinterShare's functionality) and Continue. Tap Continue once you are ready to proceed.
You will see the main PrinterShare screen with a grid of icons that allow you to access various items that can be printed. Below the grid of icons you will see an icon of a printer with Printer Not Selected text and Select button displayed beside it.
To select shared printer, press Select button.

Now, tap Nearby - Wi-Fi button and wait for the app to detect your printer.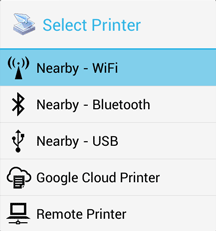 When your printer is detected, tap it and you will be ready to print.