Printing via an intermediate PC (LAN)
This printing scenario may be used in case your printer does not have built-in wireless capabilities, if PrinterShare does not have a driver for your printer or if, for some reason, PrinterShare cannot connect to your printer directly. Please note that for printing to take place, your iOS device and your computer have to be connected to the same wireless network.
You can check this by going to Settings>Wi-Fi on your iOS device.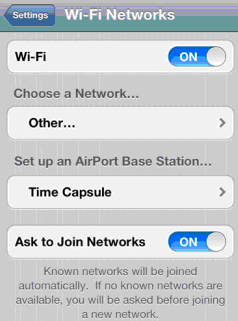 Your printer does not have to be necessarily physically connected to your computer (via USB or a parallel port) and can also be connected wirelessly, but it should already be configured to work with your computer.
1. The first step would be to download PrinterShare console. Installers are available on our web page for free. Bonjour print services for Windows is a part of the package that allows communication between your iOS device and your computer, and has to be installed; if you already have a more recent version of Bonjour installed, you may skip its installation.
2. Once the software is installed on your computer, run it, but make sure that your printer (or printers) is switched on.
3. Your printer will be displayed in Local printers section.

Select the needed printer by left-clicking it and then -- once it is highlighted – press Share button right underneath Local printers section with a list of printers. That will allow PrinterShare app on your iOS device to 'see' your printer.
4. Next, make sure Nearby service is on (bottom left corner of the screen).

5. With that taken care of, take your iOS device and open PrinterShare by tapping on its icon.
6. You will see the main PrinterShare screen with icons that allow you to access various items that can be printed. Below the grid of icons you will see a button that reads No printer selected; tap it.
7. When your printer is detected, tap it and you are ready to print.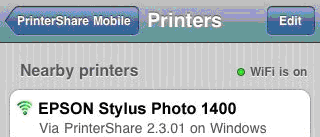 Once you select an item you would like to print from the main menu of PrinterShare app, you will be taken to Preview screen where you will be able to adjust printing option (paper type, quality of printing, etc.).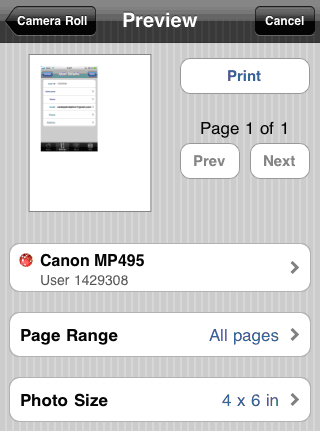 If the item you have sent for printing does not print shortly after you tapped Print, you will need to check whether print job is not waiting for your command to print in PrinterShare console on your computer. You can see a list of pending print jobs in Incoming window which you can access by clicking Incoming button located below Local Printers section of the main screen.
Select the arrived print job by left-clicking it and then click Print button. You can automate printing by left-clicking Printer>Automation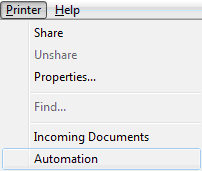 and setting Nearby Client to Print automatically in desktop PrinterShare console.