Printing from Mac OS to another computer
To print from Mac OS using PrinterShare, you need to configure a default printer first. When you just installed PrinterShare, you have no remote printers to print to, so there's no default printer.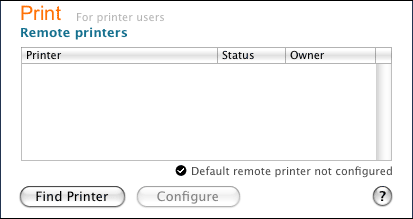 To add a remote printer, click "Find Printers", enter a search string and press Enter. You will receive a list of shared printers available in PrinterShare network. Select required printer and click "Add". The printer will appear in Remote Printers list.
See also: How it works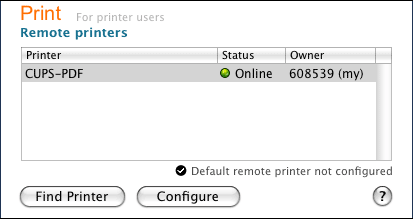 Select the printer and click "Configure".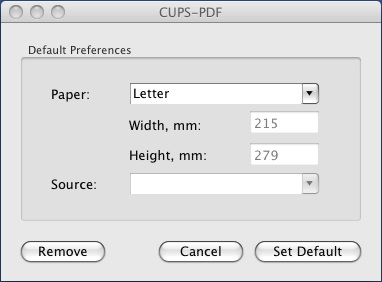 Here you can set default paper and tray for the printer. Note that normally Mac OS will use default system settings instead of ones you select here; this setup is taking effect only if system settings are irrelevant in some way.
Click "Set Default". Your default printer is configured.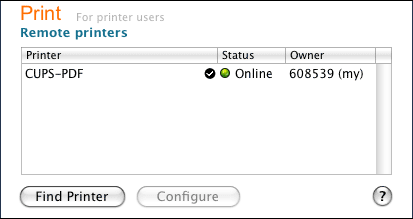 After this step, you don't need the client application running. Printing is handled by another component. However, when running, client application can provide you some optional feedback about the printing results (see below).
Now you can open any application, such as TextEdit, and select "Print". You will have a printer named "PrinterShare" available. This printer has the same parameters as the remote printer you just used as default. For example, you can select from the same list of available paper formats.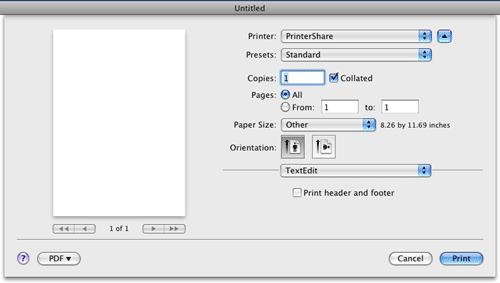 When you click "Print", the document being sent over the Internet to the receiving machine and handled there by another PrinterShare client. You may receive the confirmation that it was sent, or an error message.
See also: How it works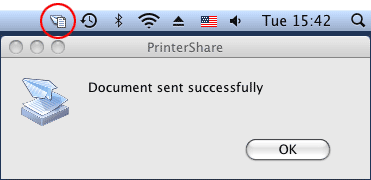 The sending result is displayed by PrinterShare client application (notice the client icon displayed in status bar). So, if client is not running at the moment, there will be no result displayed. You can still print without the client running in the system, but there will be no confirmations in the printing process.