Connecting to your printer
PrinterShare client on iPhone or Android may work with your printer in different ways. At least one of that ways should work for any printer you can get, and in many cases you will be able to choose between multiple connection options for the same printer.
Nearby printers
Direct connection

If a printer is WiFi-capable, PrinterShare on your phone usually finds it right away. If the printer's model is included in supported WiFi printers list, then PrinterShare on the phone has a driver for it and can print directly to the printer. If there's no suitable driver, it will use generic one instead.
This method is the simpliest one, but in many cases it may not work. Sometimes the printer is not WiFi capable, or was not correctly set up, or a driver does not work with this particular printer as expected. If you have one of these situations, try alternative methods.
Connection with intermediate desktop client

This method is suitable for any printer, not just WiFi-capable ones. It uses the printer manufacturer's drivers for desktop computers, instead of PrinterShare internal drivers, so you don't have to worry about the driver support list.
You will need a desktop computer already set up to work with the printer. Install PrinterShare client on the PC, and share the printer. Now PrinterShare on PC will receive the documents from the phone and print them. Obvoiusly, the PC has to be working at all times when you plan to print from the phone.
After you installed PrinterShare on PC and shared a printer, your phone should find that printer right away. Note: currently this will only work with Windows client 2.3 and higher, and iPhone client 2.1 and higher. If you have other type of devices, you can still use the same setup for Remote printing.
Remote printers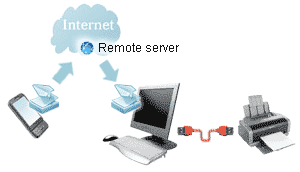 For this method, you also need a desktop computer with PrinterShare client. But instead of local network, Remote printing transfers your documents over the Internet. This means, you are not limited by just your own printers and can send documents to PrinterShare client anywhere in the world. Also, Remote printing is supported by every PrinterShare client, not just Windows and iPhone ones.
Since you have so many printers to choose from, you aren't receiving a full list right away. You need to find and select the ones you need first. See Finding a Remote Printer for instructions on how to find your own printer this way.
Summary
| | | | | |
| --- | --- | --- | --- | --- |
| | Printers | Location | Desktop client | Registration on server |
| Nearby, direct connection | supported only | local network | not used | not used |
| Nearby with desktop client | any | local network | required | not used |
| Remote | any | any | required | required |