Automation & Security
We take security seriously that is why we have included necessary mechanisms in our software that protect privacy of PrinterShare users.
You can remove your printer from search results, so that no other users would be able to print to your printers that you have shared online besides you.
Removing printers from search results is easy:
1. Launch PrinterShare console and click File tab in the upper right corner of PrinterShare console.

2. Click Options in the drop-down window
3. Check Hide printers on this machine from remote printers list

Using custom rules on handling documents, you can effectively prevent anyone from printing to your printer even if your printer stays visible.
You can set up custom rules for printing depending on the sender; it can be done if you left-click Printer>Automation in PrinterShare console.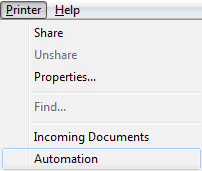 You can set printing to Do nothing (the document will wait for your permission to be printed or you can dismiss it), Print automatically and Reject automatically. We would recommend setting Anyone to Do nothing

In this screen you will also notice two icons: "+" and "-". By clicking "+", you will be able to add a sender along with the rules of handling documents.
In addition to protecting your printers from being printed to by strangers, you can protect the documents that you send over the internet. You can encrypt the items you send over the internet (they are encrypted by default) and protect them with a password as well.
On your computer after you click print, choose PrinterShare as your printer, choose the needed printer after going to settings in print document dialogue and confirm printing by clicking Print; a dialogue named Send Document will come up. In the Options pane of this dialogue, you will see the encryption options: Encrypt, Encrypt and password-protect and Do not encrypt. Choose the one which is suitable for you.