Frequently Asked Questions: Windows
Does PrinterShare support Linux?
No, unfortunately there is no support for Linux.
How do I cancel my Premium Subscription?
To cancel your Premium subscription you need to login to your PayPal account and cancel a recurring subscription to stop the automatic payment from your PayPal account. Here is PayPal's help page covering the topic.
I would like to switch to a different PayPal account but keep my Premium Subscription. How do I do that?
Firstly, cancel the recurring subscription from the PayPal account you're using at the moment. Once the subscription is cancelled, the account will switch over to Basic mode and will not be Premium anymore, so it is better to do that at the end of the monthly cycle you've paid for.
Next, once the account has reverted back to Basic status, you will need to log into your PrinterShare account from PrinterShare console, click Buy more in the upper right corner of the main PrinterShare screen which will take you to our web page.
Click Subscribe and log in to the PayPal account you would like to use.
Follow the prompts to finalize the transaction.
If you are changing to a different credit card but are keeping the same PayPal account, the procedure stays the same, but the Subscription will have to be purchased with the newly added credit card.
Why does PrinterShare display a print job with an error status in Incoming window?
In PrinterShare client, Incoming Documents window, select the job with Error status. It will display the error text in status bar at the bottom of the window. If the error is no url, then check your firewall, probably it is blocking PrinterShare. Otherwise, please send PrinterShare technical support the message text at support@printershare.net.
How can I remove print jobs from Incoming window?
You can only hide them using the filter. Printed documents are not kept on your computer for reprint and are deleted after they are printed. Records of completed print jobs are kept in Incoming screen only for the sake of reference.
Why do I get 407 proxy authentication required error?
Normally PrinterShare client picks up the proxy address from Internet Explorer settings. So, if IE can access Internet, then PrinterShare should be able to do that too. However, some specific proxy settings, such as login/password, are not supported. Make sure that the software has full access to the internet.
How do I know if my print job to a remote printer went through?
If there are no error messages of any kind PrinterShare guarantees the delivery of the print job to the computer hosting the shared printer and triggering local print job there. Normally it would "just work" but in case of local problems on the printing end (for instance no paper in the tray or no ink in the cartridge) it would be owner's responsibility to fix them. Most probably the job will be placed in the queue and printed when the problem is solved.
Received print job is distorted. How can I correct this?
Try setting "Bitmap" instead of "Enhanced metafile" as transport format.
1. Open a document you would like to print and click File>Print.
2. Choose PrinterShare as your printer and click Print.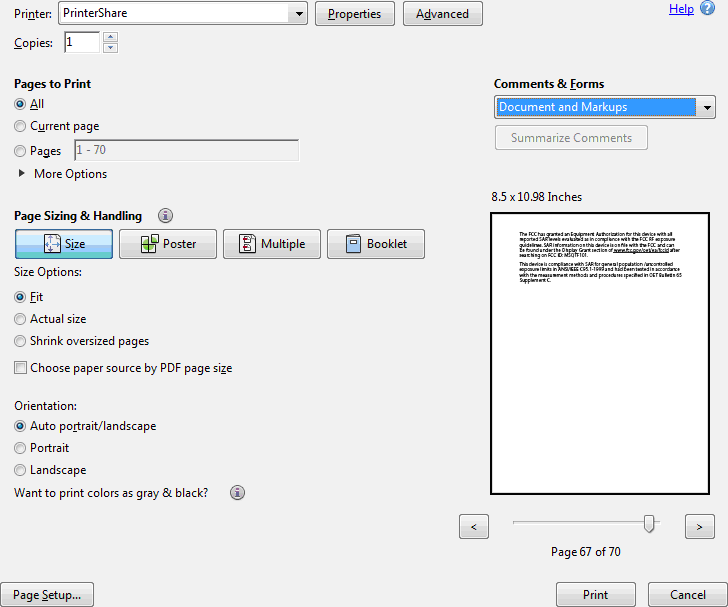 3. In the next dialogue window click Options tab and switch to Bitmap