Remote computer-to-computer printing
1. You will need to install PrinterShare client on both the receiving computer and the one from which print jobs are sent. You are not limited to having only two computers and can print to as many as you would like.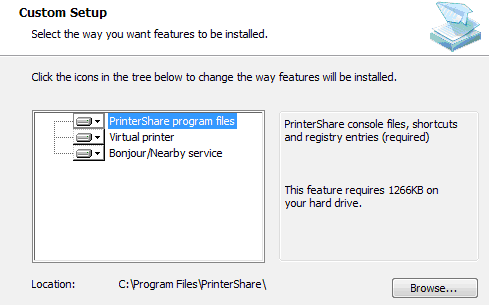 You can choose not to install Bonjour/Nearby Service component if you are not going to Print from Android or iOS devices via an intermediate computer.
2. Next, once PrinterShare console is installed, launch it and you will see all of the printers configured to work with your computer displayed in Local Printers window.

3. Before you share your printer, you will need to create an account for remote printing. Go to User>Log in.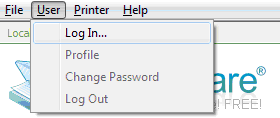 4. Left-click on button.
5. Input your password and your email address. The user ID (a numerical value) will be generated automatically and sent to the email you have specified in this form.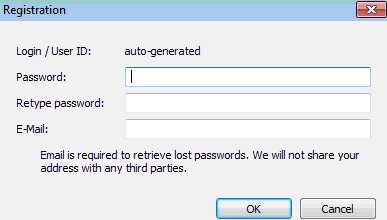 6. Now that you're signed in to your account and are online, please click the printer you would like to share in Local Printers window and click Share button. After this, the printer should appear in Remote Printers window.

7. On the other computer, one will need to simply log in to the same account that you've just created and the printer will be displayed in Remote Printers window as well.
In case a print job is sent to a computer that is logged in to a different account, you will need to do the following to add a printer that is shared from the latter:
1. Left-click Find Printer button
2. Input Account ID of the computer from which printer is shared and click
3. Left-click the needed shared printer to highlight it and then click OK. This printer will then be displayed in Remote Printers section.
8. You're ready to print now. To print, you will need to send a print job for printing like you would to any other printer (say, you would like to print a Word document, and to do this you click File>Print and choose the printer to which you would like to print), but this time one should choose PrinterShare from the list of available printers and click Print.
9. Another dialogue window will appear asking you to choose a shared printer. Choose the one you would like to send a print job to. The print job will arrive to the receiving computer shortly (the time it takes for an item to arrive depends on its size and content).
10. The arrived print job will be placed in Incoming documents list (that can be accessed by clicking Incoming button and will wait for your command to print. Select the print job in that window and click Print. Alternatively you can automate printing on the receiving computer. This can be done by clicking Printer>Automation and choosing Print automatically for the account from which print jobs arrive.